Abigail is one of the minor protagonists in The Fox and the Hound.
She is the pet cow of Widow Tweed.
Abigail's mooing sounds are provided by an uncredited Frank Welker.
Appearances
Edit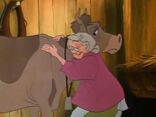 In
The Fox and the Hound
, Abigail was first seen in
Widow Tweed
's farm and is being milked by Widow. Then, a young
Tod
accidentally causes havoc in the barn when he tries to touch a hen's chicks, and Abigail accidentally spills the can of milk. Widow then tells Abigail to calm down, and tells Tod to look what he's done. But then he starts licking her face and she decides to forgive him, and tells him to run along and play, and also warns him to not get into any mischief.
Abigail isn't seen or heard from again from then on.
Ad blocker interference detected!
Wikia is a free-to-use site that makes money from advertising. We have a modified experience for viewers using ad blockers

Wikia is not accessible if you've made further modifications. Remove the custom ad blocker rule(s) and the page will load as expected.