Amos Slade
is one of the protagonists of
The Fox and the Hound
. He doesn't like pests stealing his animals on the property.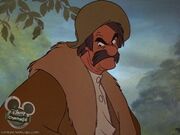 He might have a crush on Widow Tweed hinting in the sequel.
Personality
Edit
Amos is a sardonic, and ironic man. He is described as a trigger happy lunatic by Widow Tweed when they are in a argument. Amos gets mad when pests steal his chickens. Amos Slade however, does care for his pets. At the end of the film, Amos shows remorse after Tod saves him from the dangerous bear.
Ad blocker interference detected!
Wikia is a free-to-use site that makes money from advertising. We have a modified experience for viewers using ad blockers

Wikia is not accessible if you've made further modifications. Remove the custom ad blocker rule(s) and the page will load as expected.