Dixie is a female dog character in The Fox and the Hound 2. She is voiced by Reba McEntire.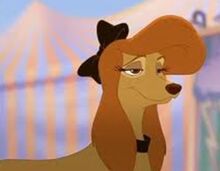 About her
Edit
Dixie is a beautiful singing dog who is part of the country group The Singin' Strays. She is Cash's new girlfriend. She has been singing with him so long.
Ad blocker interference detected!
Wikia is a free-to-use site that makes money from advertising. We have a modified experience for viewers using ad blockers

Wikia is not accessible if you've made further modifications. Remove the custom ad blocker rule(s) and the page will load as expected.